Creative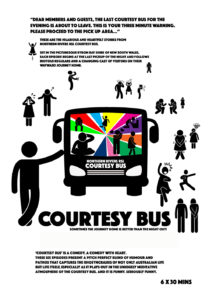 In Development:
"Dear members and guests…the last courtesy bus for the evening is about to leave…this is your three minute warning. Please proceed to the pick up area."
So begins every episode of COURTESY BUS.
Set in the picturesque Northern Rivers region of New South Wales, these are the hilarious stories from Easts Leagues Club's Courtesy Bus, available for members and bonefide guests only, requiring transport to and from the club.
Each episode begins at the pickup area and follows regular commuters and a changing cast of visitors on their journey home. Fast cut aways will deliver precision jokes relating to cast and storyline.
COURTESY BUS features an excellent and diverse ensemble cast, subverting stereotypes, while delivering silliness, absurdity, intelligence and emotional depth while fostering a communal spirit.
This innovative series will deliver a rollicking patchwork quilt of funny and heartfelt characters from all ages, all cultures and all stages of life.